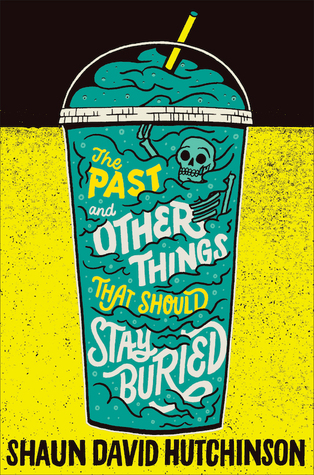 The Past and Other Things that Should Stay Buried
is just your standard teen zombie-esque book. Or something like that. I love Shaun David Hutchinson, so I will read anything he has written. And I will love anything that he's written. I couldn't wait to get my hands on this one. I received an e-ARC to review, but didn't have time to read it before it was published. And then when it was published my library took FOR-EV-ER to get it in. So then I finished it in like 3 days.
An amazing story of friendship, grief and loss, and all the good teen angsty drama and relationships intertwined. And Hutchinson always does a great job of including LBGTQIA characters in his stories, and this does not disappoint.
My rating: 5 stars.
Summary from goodreads:
A good friend will bury your body, a best friend will dig you back up.
Dino doesn't mind spending time with the dead. His parents own a funeral home, and death is literally the family business. He's just not used to them talking back. Until Dino's ex-best friend July dies suddenly—and then comes back to life. Except not exactly. Somehow July is not quite alive, and not quite dead.
As Dino and July attempt to figure out what's happening, they must also confront why and how their friendship ended so badly, and what they have left to understand about themselves, each other, and all those grand mysteries of life.