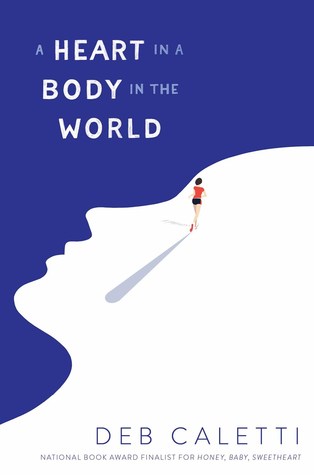 I had thought that
A Heart in a Body in the World
was on the long list for my SD Teen Choice book list for the upcoming school year. It's about a runner, so of course I opted to read it. Midway through the book, I went to jot down some notes, and I couldn't find it on the list. So I must have gotten it confused for another book. Regardless, this one received a Printz Honor this past February and from page 3 I was hooked.
The story is revealed slowly. You, as the reader, know that Annabelle is running because of *some big catastrophic event* but you don't know what. As she makes her way across the country, we get flashbacks to her life before, and things are revealed. I had a hard time "devouring" this book, as I typically do, because I didn't want to read the big scary event. But it was so well written and amazing, and everyone should read it. Seriously.
My rating: 5 stars
Summary from goodreads:
When everything has been taken from you, what else is there to do but run?
So that's what Annabelle does—she runs from Seattle to Washington, DC, through mountain passes and suburban landscapes, from long lonely roads to college towns. She's not ready to think about the why yet, just the how—muscles burning, heart pumping, feet pounding the earth. But no matter how hard she tries, she can't outrun the tragedy from the past year, or the person—The Taker—that haunts her.
Followed by Grandpa Ed in his RV and backed by her brother and two friends (her self-appointed publicity team), Annabelle becomes a reluctant activist as people connect her journey to the trauma from her past. Her cross-country run gains media attention and she is cheered on as she crosses state borders, and is even thrown a block party and given gifts. The support would be nice, if Annabelle could escape the guilt and the shame from what happened back home. They say it isn't her fault, but she can't feel the truth of that.
Through welcome and unwelcome distractions, she just keeps running, to the destination that awaits her. There, she'll finally face what lies behind her—the miles and love and loss…and what is to come.