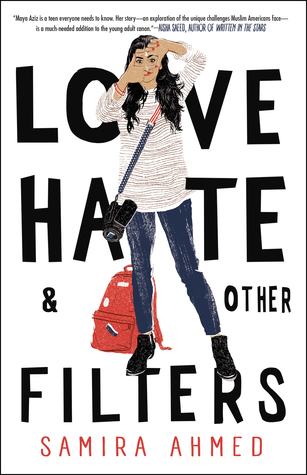 Love, Hate, and Other Filters
is a new teen book by Samira Ahmed. I'd been hearing a lot about this title, so I was excited to get my hands on it. I fell in love almost instantly. The voice of the main character resonated so much and reminded me so much of myself as a 17 year old. That longing to be independent and pursue my dreams. I loved that the story delved into expectations; from her family, her culture, and even a side character's expectations from the community. The story was nice, and light, and sweet until it takes a dark turn. It is told in such a beautiful and honest way, I would highly recommend it. Sweet love story, sweet coming of age story, and an important look at how we view terrorism in our country.
My rating: 5 stars.
Summary from goodreads:
A searing #OwnVoices coming-of-age debut in which an Indian-American Muslim teen confronts Islamophobia and a reality she can neither explain nor escape--perfect for fans of Angie Thomas, Jacqueline Woodson, and Adam Silvera.

American-born seventeen-year-old Maya Aziz is torn between worlds. There's the proper one her parents expect for their good Indian daughter: attending a college close to their suburban Chicago home, and being paired off with an older Muslim boy her mom deems "suitable." And then there is the world of her dreams: going to film school and living in New York City—and maybe (just maybe) pursuing a boy she's known from afar since grade school, a boy who's finally falling into her orbit at school.

There's also the real world, beyond Maya's control. In the aftermath of a horrific crime perpetrated hundreds of miles away, her life is turned upside down. The community she's known since birth becomes unrecognizable; neighbors and classmates alike are consumed with fear, bigotry, and hatred. Ultimately, Maya must find the strength within to determine where she truly belongs.