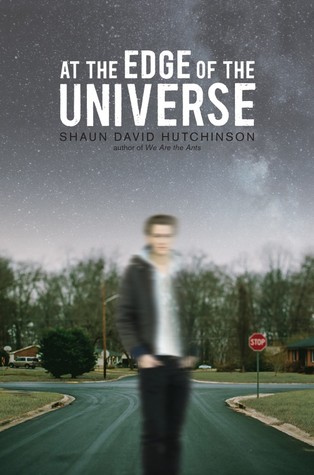 I'm on a roll with the weird-o books, and I'm not going to apologize for it. Shaun Hutchinson always writes weird books, and I always read them, and I always love them, and
At the Edge of the Universe
is no different. It's hard to even talk much about the book without giving much away about it. I will say that the size of the book is misleading. I think it's almost 500 pages, but it reads like it's 250-300, so it's a super fast read.
My rating: 4.5 stars
Summary from goodreads:
Tommy and Ozzie have been best friends since second grade, and boyfriends since eighth. They spent countless days dreaming of escaping their small town—and then Tommy vanished.

More accurately, he ceased to exist, erased from the minds and memories of everyone who knew him. Everyone except Ozzie.

Ozzie doesn't know how to navigate life without Tommy, and soon suspects that something else is going on: that the universe is shrinking.

When Ozzie is paired up with new student Calvin on a physics project, he begins to wonder if Calvin could somehow be involved. But the more time they spend together, the harder it is for him to deny the feelings developing between them, even if he still loves Tommy.

But Ozzie knows there isn't much time left to find Tommy–that once the door closes, it can't be opened again. And he's determined to keep it open as long as possible.