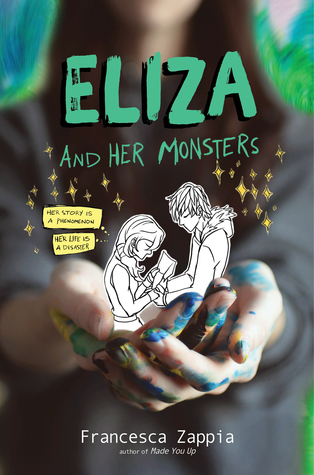 Eliza and Her Monsters
is a book that came up on my radar as a possible Printz Award contender. As soon as I heard it compared to Fangirl and Carry On I was in. And then it took me decades to get a copy from the library. Insert eye roll emoji here.
I loved this book so much.
It's been a long time since I've enjoyed a book so much that I found myself picking it up when I knew I only had ten minutes to read. Guys, this is really saying something. I couldn't put it down. I loved it so much, and if you pick it up and read it, I'll almost guarantee you'll love it too. Sadly, I don't think it'll win a Printz award, but I hope to hell I'm wrong. I will be arguing very strongly for it to be included in our South Dakota teen book award for high school students.
My rating: 5 stars
Summary from goodreads:
Her story is a phenomenon. Her life is a disaster.
In the real world, Eliza Mirk is shy, weird, and friendless. Online, she's LadyConstellation, the anonymous creator of the wildly popular webcomic
Monstrous Sea
. Eliza can't imagine enjoying the real world as much as she loves the online one, and she has no desire to try.
Then Wallace Warland,
Monstrous Sea
's biggest fanfiction writer, transfers to her school. Wallace thinks Eliza is just another fan, and as he draws her out of her shell, she begins to wonder if a life offline might be worthwhile.
But when Eliza's secret is accidentally shared with the world, everything she's built—her story, her relationship with Wallace, and even her sanity—begins to fall apart.